"The School is the harvest that costs the most,
but yields more fruit, for the conduct
of one's whole life depends on
the Education one has received."
–St Magdalene of Canossa
Canossa High School, situated in Mahim, Mumbai is a Catholic school for girls, established and administered by the Canossian Daughters of Charity.
The school was started in 1932 as a primary school, annexed to the Parish of Our Lady of Victories. It was recognized as a High School in 1946 and is under the jurisdiction of the Archbishop of Mumbai.
The school stands for academic excellence, development of skills and character formation based on the love of God and service to all people. We proritize all-round development of our students and inculcating commitment to God and Country, empowering them to be women of integrity.
Canossa High School aims primarily at the education of the Catholic community and the preservation of Catholic faith and religious practices. Preference in admission to the School will be given to Catholic children. Admission, however, is open to children of other communities without distinction of caste or creed.
In the words of our Foundress, St Magdalene, "Love is like a forest fire that sets everything ablaze." We, at Canossa, that life is built on the power of love and strive to stoke the flames of love lit by St Magdalene. With the help of Jesus, our perfect teacher, we pray that our school be an agent of social change which will bring justice, harmony and peace, and teach our students to walk the path of truth.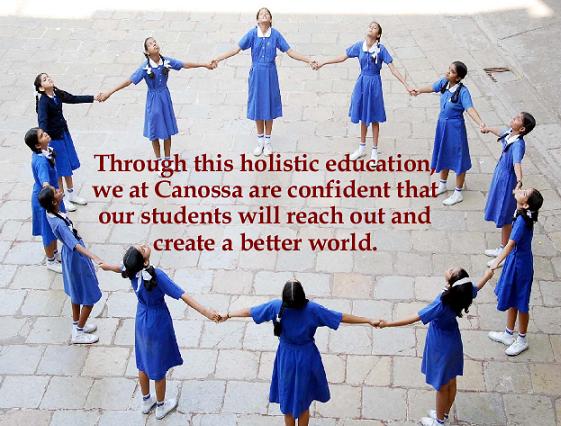 Our community also includes:
Night High School: So as to provide education for older girls who could not attend day school, the Night School was opened in 1959.
Dev Kripa Mandal: Social Welfare Centre. Seeing that the poor were numerous and desiring to help them, Dev Kripa Mandal was opened in 1965, as a center to provde social assistance, employment and health care for women and study classes for backward and poor children.
Special School: for the mentally challenged was opened in 1967.
Primary School: Because of overcrowding of students in Canossa High School, a building was put up in Pitamber Lane and the Primary School and Special School were shifted to Canossa Annexe in 1976.
Kindergarten: caters to little girls, ensuring they are initiated into the art of mixing with other children, as well as learning the three R's.
Management Staff